@Garnet it looks like an old ventilator
It looks medieval but might not be? Ha Ha! Not sure what it is but my guess by looking at the pic would be that it's some sort of power supply?
Yeah, or some kind of battery. Looks like copper? Possibly some kind of ancient copper battery/energy storage system.
@Garnet, were you there in person? Cause there is a number in front of it which would have linked to an info card of some time at that meseum?
Tem
Its amazing when you dig deep just how much technology was out there.
Look at Egypt. It too had what is believed were batteries in the day: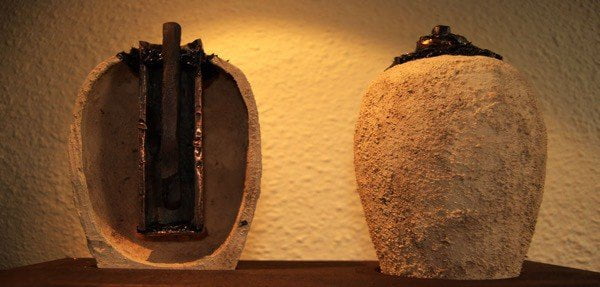 So much is lost in time. I believe energies are stored in certain materials too in magick use. This is why we cleanse and put our own energies into things such as crystals and other tools like your wand.
You can absorb energies from the atmosphere, store for later use. And use that energy and expend it out into the universe when you have stored the amount you desired.
Tem
It's called has the Babylon Battery, the world's first electrochemical battery.
So amazing how many geniuses we have here… I must be from another planet as i had no idea what any of those things were… Thanks for sharing i love having an opportunity to learn a little more
Absolutely!! I believe everything has energy!
Great link!! Smarty-pants
thanks though!!!
Your guesses are almost spot on. Although not the first, thanks to those of you who took the time to research but this
invention became the precursor to the generator.
Invention: Battery
Date of Invention: 1800
Invented by: Alessandro Volta
His batteries were made with Copper and Zinc discs and were parted by clothing soaked in saltwater. Electricity was conducted into the wires connected to both discs, through a stable current.
He was the first scientist to patent the battery. Through his invention, he became the pioneer of power generation and proved that electricity could be generated through a chemical medium. Other designs followed after the battery, but he is mostly recognized for inventing the battery.
@Temujin_Calidius that first Egyptian pic looks like they are in a competition to measure their…manhood.
@christina4 I just did a reverse image search, and there it was.
I thought it looked like 2 sperm facing off.
Evidently, "swordfighting" had a different meaning in ancient Egypt.
🤦:joy:
oh wow I needed this laugh!
Hehehe
bless you for making my day!!!
You're right, and I think energy is the one thing that cannot be destroyed?
Correct, at least in my opinion. It is something that can be used but is always recycled in the universe.
I put my thoughts into objects to store energies, such as intention. You can then cast those energies out when ready to be put out into the universe. But just like batteries, they have a lifespan - the energy wont remain there for ever and need to be recharged. This prevents hoarding of the universal energy.
For internet based spells, you could for example, send energy down the energy stream of the internet to find its way to a particular server you are on (Spells8), ask it to store on the servers and to come back through to a particular person for them to absorb your spell upon reading
It's much like reading a powerful book. The English language of 'spelling' words and 'spell' - everything you read has a cause and effect.
Tem
Right it can't be destroyed but can change form.