I'm glad you don't think I'm nuts lol. It's good to see you saw it too!
Hey all!
How is the lunar eclipse treating you? I was able to see the moon about an hour ago but the sky is cloudy now and I'm not able to see it anymore
How about you, guys?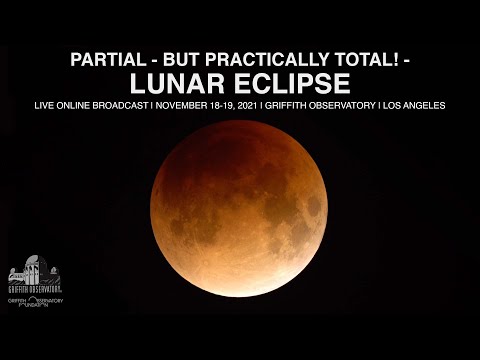 Sorry you missed it, but you can see it here by the Griffith Observatory:)
I got to see it towards the end. I woke up too late. It looked like something took a bite out of the moon. Interesting. I tried to take a picture with my phone, lol! Yeah that was not going to happen. I'll leave it to the professionals they do a better job.
I'm grumbly and grouchy about it because I actually made the effort to get out of bed at 3:30am to go look and the entire sky was covered in clouds
still couldn't see even the moon itself when I got up at 6am
Oh, I'm sorry, I feel you!
I saw it only 2 times, when the Eclipse started and when she was coming out of the shadows, but yea, pretty cloudy almost all the time
I've decided to do the Eclipse Ritual anyways and see it with my mind, I think it worked.
Hopefully, next time we'll be able to see it.
Thank you for the video, Christine
I used it too when I started to feel hopeless, lol.
It's so nice that you saw that, it will remain in your mind, and that's what matters. Hopefully, we get to see some good pics in the following days.
I unfortunately wasn't able to see it. I even made the extra effort of getting out of bed at 3:30 this morning! The sky was cloudy and I couldn't see any moonlight at all
How do we make it work for us? Like what things should we do?
The eclipse is already over. UT the full moon is still going on. You can check the Spells8 website for a ritual or scroll up a bit. I believe some others have already shared some full moon plans. @Siofra wrote a wonderfully extensive guide to Moon Water Basics
and if you search for "Full Moon", you'll find loads of ideas!
Thank you so much!
You're welcome
@Velle I don't know if you noticed the face of the Goddess at the top of the wings on the moon. She is so lovely tonight.
I did my business dedication to Goddess Brigid and Goddess Aine tonight.

My request was accepted and I can still feel the warmth of their love.
Blessed be.
Hi all
I did the guided Meditation Moon Lunar Eclipse in Taurus. I did the meditation & the part to release feelings/people/relationships that are not in my growth to release them…tears fell onto my cheeks, I was silently crying & they fell almost to the end of the meditation, near the end of the meditation in my head & heart. I said I still love you, Justin.
I don't fully understand why I was crying but I do understand why I said I still love u Justin because I still do.

So mote it be, so shall it be
Blessed Be
Thank you! Although, I watched it, I like to go back and rewatch such a magical event!!!
I slept through it all . When I woke i:30 am … I didn't see anything . Very cloudy here … I kept my curtains open allowing the moonlight even through the clouds to cover me and I did a releasing mediation. The moon usually shines directly on my bay window … I can say I feel well rested minus the headache I woke with
Such a beautiful night and haven't had a chance to do big Magick in too long but tonight it all came together
@jim Same here. I haven't been able to do much magick in a few weeks. Still meditating daily though. Today was the first day of a big spell and I dedicated my life and business to the Goddess Brigid and Goddess Aine (Anya). I had Spirit tell me that it was time. Wrote my own spell and chant for this dedication. Business is booming before this and I hope to see an increase after today.

When Spirit leads, I follow. And everything is good.
Blessed be.
It's beautiful to see all the magic!! 🪄✨
You too @Magdelina