As we approach yet another Full Moon and more Witches decide to put their Magick to test
I thought I'd share this video (and printable page)!
The Witch's Pyramid is a visual representation of the four cornerstones of Magic. The four pillars on which powerful spellcasters sit.
There are a few variations, but the original ones are:
Wisdom (Air) - To study - To Know

Will (Fire) - To imagine - to Will

Faith (Water) - To have courage - to Dare

Secrecy (Earth) - Never be too explicit - to Keep Silent

Love makes up the internal structure of the pyramid.
I made a video and a printable page about each of these four powers of the Witch:
The Witch's Pyramid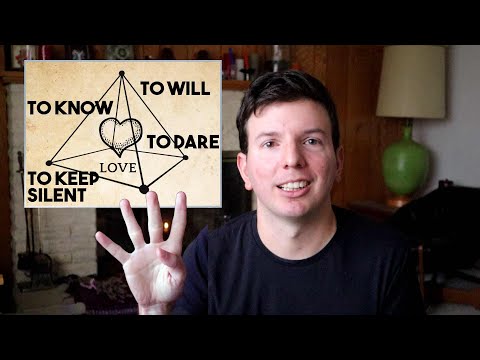 In the words of Paul Huson in Mastering Witchcraft (first edition 1970)
The four cornerstones of the witches' pyramid are: a virulent imagination, a will of fire, rock-hard faith, and a flair for secrecy.
To Know
Knowledge comes from Nature, it comes from studying, reading books, from engaging with teachers but also with people who have found love, wisdom, fulfillment and personal power.
"Pay more attetion to their lives than their words because many Magickal people can't explain in words what has worked for them". - Amber K. in True Magick (1990)
To Will
If you cannot clearly imagine the goals you intent to achieve through magick, do not expect to achieve them. If you don't know where you're going you'll probably wind up somewhere else. You must be able to experience your goal in your mind, sense the image, sound, smell, taste and feel of it.
To Will means to know what you really want and what you yearn for passionately, with all your heart. This is your True Will, not whims or simple desires. What really matters to you.

Find more Book of Shadows pages here
To Dare
"A rock-firm faith in your own powers" as Paul Huson says in Mastering Witchcraft.
To dare is an attitude of courage. Transcending inner fears and perceived barriers. Having faith in yourself and never lying to yourself because each time you break your word, you chip away a little faith in yourself.
To Keep Silent
Clifford Bias states: "The real magus has neither the compulsion to parade in full magical regalia before the uninitiated, ranting pontifically on "Cosmic Consciousness" nor the need to buttonhole people at parties muttering darkly about attending a Black Mass"
We keep silent to become sensitive and receptive. When we are loud and busy we miss the presence and currents of subtle power.
---
Another early mention of the Witch's Pyramid is in the Ritual Book of Magic by Clifford Bias:
"The Magus, the True Witch, stand on a pyramid of power whose foundation is a profound knowledge of the occult, whose four sides are a creative imagination, a will of steel, a living faith and the ability to keep silent, and whose internal structure is love"
In summary, the Pyramid is really made of love. Magic motivated by love heals old pain, encourages growth and eases transitions.
:・゚✵ :・゚✧ :・゚✵ *:・゚✧:・゚✵ :・゚✧:・゚✵:・゚
Keep all of these points in mind to cast more powerful spells!