2021 is leaving. It is exiting the building (and good riddance, too!) and we are making room for 2022. However you celebrate, I wanted to give you all a few different activities and spells you can do. There's even a breakdown of the numerology of the year 2022!
So, how are you celebrating? Leave your well wishes, you celebrations, traditions, and parties here in the comments!
Note: Any post made for the New Year outside of this post will be merged here so we can all celebrate together.
---
Learn why you might want to make moon water on New Years Eve and what it's good for!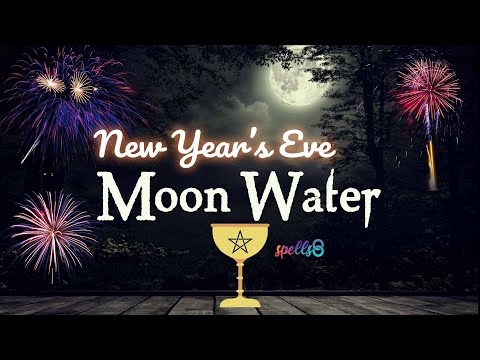 Give your home a good cleanse before doing any protection work. Clear out the old stagnant energy that 2021 has left hanging around and then invite in new things!
House Cleansing Spell → https://spells8.com/house-cleansing-spell/
Give your home a boost of protection as you enter the new year. This spell was originally created for a new home but it can easily be adapted for one you already have.
Home Blessing → https://spells8.com/house-blessing-prayer/
Invite good luck into your home (after you've cleansed) with this simple chant and cinnamon incense.
Good Luck and Prosperity → https://spells8.com/good-luck-cinnamon-spell/
Right before the clock strikes midnight, perform a banishing to remove unwanted things from your life!
Banishing Spells → https://spells8.com/banishing-spells/
Fancy some divination? I created a Year Ahead tarot spread a few years ago and have given it a refresh! All the information for that is on my website and it comes with a FREE booklet to help you keep track of your reading!
Year Ahead Tarot and Booklet → New Year Circle || A Tarot Spread for Clarity - 'Round the Cauldron
---
Numerology of the Year 2022
This is going to be super quick and easy! Ready? Here's the number for 2022.
2 + 0 + 2 + 2 = 6
Our numerology for the year 2022 is 6! Now, I know diddly squat about numerology so I had to do some digging for this information. What does the number 6 say for us in terms of the new year?
Year of taking care of others, responsibility and obligation. Expect more marriages this year and a focus on harmony. It's a year of home, responsibility, family commitments, comfort, and concern for health. People are likely to band together to improve their communities. It's also a year of expressing personal beliefs and ideals. [Astronumero.org]
It looks like it'll be better than the 5 year we had in 2021, hopefully? I'm really liking that "focus on harmony" bit
What do you think? Will 2022 be better than 2021? Or is it all just a product of what we make it?
---
However you choose to recognize and celebrate the New Year, know that those of us here at Spells8 celebrate with you! We are (or at least I am…) just as ready to close the door on 2021 as the rest of you!