Warm greetings to all!
Thank you once again to everyone who joined in for last week's Weekly Witchy Challenge - Love Magick
After exploring the world of love magick last week, it's time to delight in another aspect of magick- one that may often be overlooked. But the beauty is in the details and it is time to celebrate magick in the little things!
The theme for this week's challenge was suggested by the wonderful @Amethyst and is…
Everyday Magick
There is a time and place for elaborate rituals and multi-day casting spells, but what about the moments in between structured spellwork or planned rituals?
This challenge is all about celebrating magick in our everyday lives. It could be about finding magickal things where you hadn't noticed them before, or discovering little easy ways to add a touch of magick to your daily routine
This week is all about exploring quick and easy everyday magick - but as always, how you do so is up to you!
So are you ready? Because it's…
CHALLENGE TIME!
Art by Brenna-Ivy: Modern Male Witch Greenhouse
STEP 1 : Making the Mundane Magickal
How do you add a touch of magick to your everyday life? Whether it's something you do without a thought or are actively searching for ways to make your days more witchy, this is the challenge for you!
There are so many ways to approach this challenge, so here are just a few suggestions of some quick and easy magickal touches you can add to your day- all without having to rework your schedule!
Tea and Coffee Blessings
With just a stir of intent or a few spoken words, you can easily turn a beverage into a blessed potion.
Quick and Easy Tea Blessing

Crowley's Coffee Consecration Prayer

Quick Chants and Prayers
A spell can be as elaborate as a multi-day candle spell with a hundred ingredients… or as simple as a few words spoken with intent. Consider saying a quick prayer or blessing, or perhaps write your own!
Quick Caffeine Chant for Motivation

A Card A Day
Save the ten-card readings for another time- this week, consider exploring quick and easy ways to draw on your cards for a touch of magick you otherwise would have missed out on.
Easy Daily Tarot Exercise

A Daily Oracle Card Draw and Message From Coven Members

Additional Quick Witchy Tips to Consider
Quick Witchery for the Modern Witch: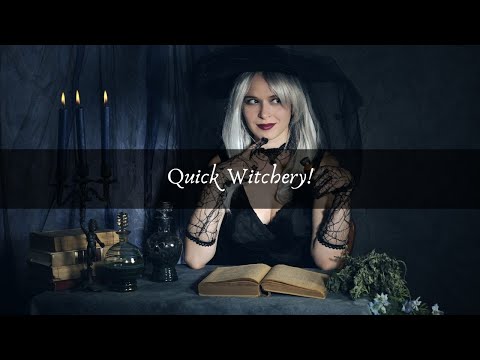 → Ways of Incorporating the Craft Into Everyday Life?
→ Wearing Witchy Jewelry in Public
→ Quick and Easy Protection Circle
…And More!
How you add a touch of magick to your everyday life depends largely on what will work best for you- so feel free to pursue this week's theme in a way that resonates with your unique magickal practice!
From Learn Religions: What is Kitchen Witchcraft?
---
STEP 2 : Share Your Experience
Please click here for notes about challenge inclusivity

Everyone is welcome to join the challenge by practicing magick in line with the current theme. For those who don't feel comfortable sharing, it is absolutely okay to follow along with the challenge but keep your entry personal. Feel free to join in spirit and do what feels most comfortable for you!

That being said, please know that if you would like to receive a prize and a public shout-out, it is required that you share your experience
To participate in the challenge, please share:

How you added to or explored magick in your everyday life this week
For your entry to be counted, please write about your experience in the comments below and/or create a new thread in the forums.
Note : If you choose to create a new thread, please tag the challenge by adding a hyperlink back to this post so that I can easily find it- thank you!
---
This challenge will close in 6 DAYS
To join in, please share your experience by:
Tuesday, February 22nd at 7:00 AM EST (Eastern Standard Time)
( 2022-02-22T12:00:00Z )
For their efforts, all participants will receive a special shout-out and a small prize!
Acknowledgments will be given in a Props and Presents Post that will appear in the forums on Tuesday.
After the challenge closes, you are still very welcome to post but please be aware that no additional prizes will be given. This discussion will remain open for about a week after the challenge finishes.
---
Picture from Dazed: How to Use Everyday Magick to Live Your Best Life
A warm reminder that all challenges are designed to be very open- everyone is encouraged to participate in a way that honors and reflects their unique practice
If you have any doubts about if something is acceptable to post or say, please double-check with the Forum FAQ and/or reach out to your friendly Moderator Team .
And for those new to challenges- welcome!
Know that the goal of these activities is to help you further diversify and strengthen your abilities and to bring together the Spells8 forum family to inspire and support one another in creative ways
Picture from Pixabay
At the altar or out where all can see,
A witch is a witch no matter where they may be.
The spark of magick burns so bright-
It never goes out, not day nor night!
So a witch at work or a witch at play,
Rest assured- your magick is never far away!
Blessed be!