Yay! For this weeks challenge

I was already planning a waxing moon ritual so it fits perfectly

Thank you for the challenge @TheTravelWitch , whoever it was that sent quotes about C.G Jung, I searched him up and found ton of quotes which could help me out a lot of it too,
Blessed Be,
Margaret
Out of darkness comes the light!
This is great!

I am on this train for sure… really excited for this week challenge. Brain storming

Glad you think so @MeganB!

Ohhh that does work out perfectly- wishing you a very blessed Waxing Moon Ritual, @Liisa! Enjoy

You are very welcome, @Anne2!

I believe both @Silverbear's recent post on What is Our Shadow Self and @MeganB's Shadow Discovery challenge entry explore the works of Carl Jung. Enjoy your new knowledge- may it help you overcome your shadows and find peace in the light!


Cheers to that, @Rowan!

Glad you think so!

Beautiful quote, @Jeannie1- so mote it be!


Wonderful, @NickWick! I'm looking forward to seeing your creative mind and beautiful magick shine brightly


Have to think about this one. There are so many ways this challenge can be approached!
EDIT: I think I know what to do now. A road opener spell to figure out where to go in my love life.
I've looked at the spells on this site, but are there any others I could try?
I just did this challenge. First, I did the "Easy Ritual with a White Candle"…where you wash your hands with the salt water.
Then I did the White Candle Meditation.
It was kind of interesting for me. During the meditation, I saw a symbol of a star that I always drew since I was a child. It sort of looked like this…

.
Does anyone know what this means?
I've already shared the story of my friend that was so sick, therefore I won't repeat. I Can hear you all saying "Thank God."
What I will share is that many years ago my oldest brother called and said the doctors found a lump on his wife's breast and they needed to do a biopsy. He was so frightened and we just talked for a long time. When we hung up I went to the sacred place where I kept my alter. I offered the prettiest of my hibiscus flowers and asked from the bottom of my heart to let her biopsy be negative. He had lost the love of his life and 1st wife quite suddenly a few years before. The man was just traumatized. I pleaded and begged. Jeez, I wept like a baby, finally I bowed at my altar and retired.
About a week later, he called me and told me that the biopsy was negative! Well, don't you think I ran to my altar, dropped to my knees in gratitude. And told my Goddess, she was the best!!!
Not about light or white magic, but I wrote this poem when I was at school as part of a bird diary about blue tits… Reminds me of summer coming and brightness
Bold and bright
Little and light
Upstart bird
Eating all night
Ten caterpillars
Insects galore
Too Much! Time to snore
That's so wonderful to hear!!! I'm glad that everything worked out for the best!!


For this challenge I'm working my way through the DY Witch's Apothecary course, I'm going to try my hand at a couple of the recipes, see if I can find something that soothes some of my aches and pains, and hopefully helps with my hay fever as I can't take the antihistamines this year.
Also planning some meditation and waxing moon magick…
I've also started a new Book of Shadows this week having filled my first one.
That one I was printing and gluing in information and pages as I went in chronological order, so it's like a story of the start of my journey. This Book of Shadows though is an A5 6 ring binder so I'm going to try to organise things into sections so it's more easy to use as a reference. I'm not worried if I duplicate some of what I've already put in my first Book Shadows in doing so.
For road opener spells aside from the Spells8 ones, I love the one by Magical Crafting on YouTube. The video is her painting and drawing the spell into her BOS. It's a road opener spell that really appeals to creative souls and art witches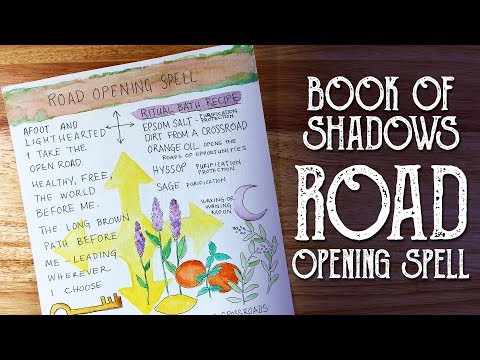 Congrats on your successful spellwork, @Christina4!


As for the symbolism in seeing the star, it sounds like it may be a personal correspondence if it was something connected to your childhood. Perhaps exploring something that happened in the past will illuminate your future path

---
That is a very heartwarming story, @Garnet

I am glad your Goddess listened to your selfless words and kind wish for your oldest brother. A very inspirational and hopeful experience!

May your Goddess continue to watch over you and your loved ones

---
I love that poem, @IrisW!


The words make me thing of happy little birds jumping along, picking up their tasty snacks as they flit from here to there

Thanks so much for sharing!
Wishing you the best of luck with the Apothecary course- I hope you can find some fun recipes to try!

Fingers crossed you'll find the perfect one for your aches and pain. To fight allergies, I've found local honey to be my favorite go-to cure

Enjoy your coursework, Book of Shadows, and meditative moon magick!

Thanks for recommending the link for Magical Crafting because I just watched about 8 of her videos in a row all because her voice was so soothing. She does a wonderful job at what she does!!!
I actually bought some local honey a couple of weeks ago and I've been using it in the honey and ginger tea healing potion. Very soothing!
I did some divination work, per @MeganB 's suggestion, using a pink candle on whether or not I should pursue a relationship with Josh.
After cleansing my space with rosemary, I cast a circle, sprayed myself with dragon's blood perfume, and invoked the elemental dragons to protect me. I also invoked Aphrodite and offered her a bowl of red rose petals and leaves sprinkled with rosemary.
I then took my cauldron and let the wax from the pink candle drip into the water.
The shape was interesting when I took it out. I don't know how long I spent staring at it, but after a while, I decided that the shape reminded me of the buttes of Monument Valley in Utah and Idaho.
It took me a day to figure out how Monument Valley could possibly be the answer to my question. I couldn't find any negative meaning behind this. I have few memories of my family's trip out west when I was 5 or 6, but I still remember Monument Valley with its towering buttes and its warm colors. I long to go back there someday.
I'm not a fan of the desert landscapes of Arizona and Utah. I prefer the forests and lush greenery of the east. But I can make an exception with places like Monument Valley and the Grand Canyon.
Perhaps this means that if I pursue this relationship, I'll see that it's actually something that's beautiful.
I completed the DIY apothecary course last night and all the recipes are in my freshly started second Book of Shadows in their own section.
This Book of Shadows is an A5 6 ring binder so I can be more organised. The pages are like brown thick parchment type paper and I've managed to find some matching dividers.
This afternoon I'm going to practice so self love and have a bath with Ylang-Ylang, Lemon and Orange bath salts I got from a subscription box from The Wonky Broomstick in Glastonbury.
I'm going to light some candles and follow the Magickal Bath Ritual provided and perhaps some meditation afterwards.
I also got these from MeganAndTheMoon on Etsy.
The Evil Eye witches bells I've hung next to the front door for protection.
And this Witches Ball is also for protection and is hanging next to the window in my office.
This evening I'm planning some moon magick but not decided on what yet so I'll post back later.
I like to participate. But I don't know about weekly witchy challenges

I am new to spells8. I want to know, What are weekly witchy challenges? What we have to do? and how to participate?. Please reply. I am ready to hear anyone.
Hello it's nice to meet you @wasantha , when participating in the weekly challenge, the theme for the is kept in mind from my recent nearing 2 weeks experience (I'm also new to the it yet it's starting to be fun for me too). Also usually if submitting your entry, you either add a reply post in the week's challenge which @TheTravelWitch gives such as this current post, or create your own post by clicking the add button or new topic, selecting activities in what your post is about and linking the week's post challenge, how you choose to do the challenge is up to you, I'm no moderator or administrator though, @MeganB or @TheTravelWitch are best equipped in teaching how entries for weekly challenges work, what I told you is from my experience itself, Enjoy and Bests of luck to you,
Blessed Be,
Margaret