This tea offering prayer comes from the book Magical Herbalism by Scott Cunningham, who adapted it from an ancient prayer, from the Great Magical Papyrus of Paris.
It can be used in daily Pagan spiritual practice, blessing tea, coffee, or any beverage with an intention in mind.
Find a printable page below!

Tea Offering Prayer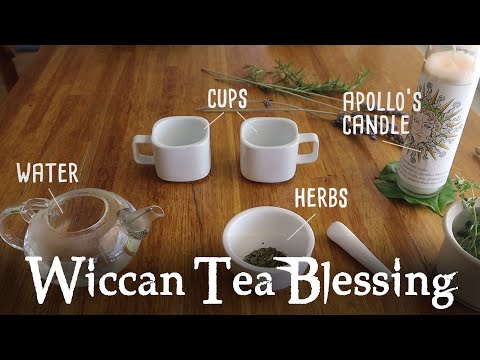 Here's a printable page with this Wiccan blessing prayer. Add it to your Book of Shadows! You don't have to be Wiccan to use this chant.
I prepared a candle for Apollo, ancient god of music and dance, truth and prophecy, healing and diseases, the Sun and light…

Just like with the Green Man candle, I printed it on sticker printer paper and pasted it onto a glass candle.

This one is black and white so it can be used as a coloring page too!
Bless your teas and have a blessed day!