Beautiful

I love a bath blend / bath soak

I am envious of your bathtub! It is beautiful

Bath ritual is something I want to start doing now that I also have a bathtub, but I can't let things float around or clog up the drain, so I am actually planning on getting some of those tea bags that you can refill and using those to hold my ingredients - like a bath tea lol
Oh that looks lovely


Unfortunately I don't handle heat well so baths make me super dizzy. But I can still admire the aesthetic

A great idea!


Sometimes when I'm feeling lazy I'll just throw a chamomile tea bag or two into the bath- it makes the water nice and soothing, is super quick and easy, and there's no clean-up at all!

Oh no, sorry to hear it! Maybe a lukewarm or chill bath would be okay? In summer when it gets very hot, it can be nice to have a cold bath from time to time!


Do you have low blood pressure maybe?
I have low BP and I get dizzy in hot baths too, so I have them luke warm and run the cold tap

towards the end of bathing, so when I stand up, the bath has cooled. It helps alot and it's bizzarely refreshing!

oh love your bathub! I had a nice one in our last place but this one is just a bathtub…lol I do a lot of herbal soaks,…as a matter of fact, all my baths are herbal soaks…they are soo relaxing and mind opening
go lukewarm, don't worry about it, when the water starts to chill too much, add a little more warm. A lot of people cant' handle the hot water or even the steam
Very true!

Hahaha I know how it is- I started with just a special herb bath here and there, but they are so nice and relaxing, now almost every bath I want to add a bath blend too


! I haven't had a completely normal bath in weeks- always gotta throw a little bath salt or some petals in!

Not that I know of at least

And true, lukewarm baths are ok! Maybe I'll give it a try again

Question for you all!
What do you all do with herbs used in your spiritual baths when you are finished?
I either let them go down the drain or put them in the trash or compost. It depends, really. I don't do much spiritual bathing with loose herbs because it's just messy lol
@TheTravelWitch congratulations on the bathtub! I know your delight in having one. My current apartment doesn't have a bathtub, just a stand- up shower… ( Do miss it. However, i have a patio. Compromise lol…)Your bath ritual looks amazing! Blessed bath rituals!
I don't have a bath tub either! Downside to full-time RV living. I've been researching how to do these with showers but have to figure out how to make it work with my shower head.
Great question @sarah29!

I second the advice Megan gave- loose-leaf herbs or flower petals in ritual baths can be scooped up and disposed of in many of the same ways you can dispose of ritual offerings.
Having the petals and herbs float around is very atmospheric, but if you're short on time or don't want to deal with the mess, you can tie them up neatly in a little cheesecloth/muslin ball, put them into a one-use teabag, or just use a pre-made teabag (chamomile tea bags are a favorite of mine- most stores carry them, and they make a lovely bath!)


---
Thank you so much, @walter!

It's been a delight- perfect for ritual baths and end-of-the-day relaxation!


Lots of benefits of being on the road @jessica55, but I understand the longing for a bathtub! Luckily, it's pretty easy to make it work- here's some advice on how to adjust bath rituals into shower rituals. There were some lovely shower ritual ideas shared as entries to the Bath/Shower Challenge a while too that may help to inspire you! Happy shower rituals!


I also want to pop in here to say that I did an entire video on my channel about ritual baths without a bathtub

It might help give you some ideas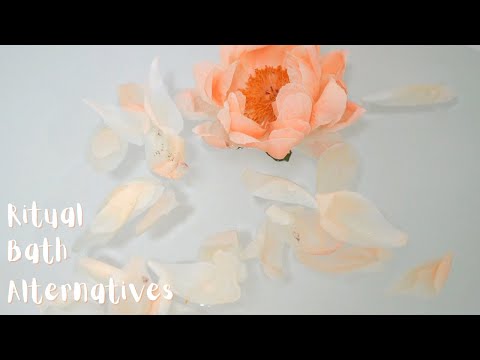 Thank you @MeganB . Great ideas for tub-less dwellers. I also do a leave on bath. I bring, chamomile, sage, flower-petals or rose-petals and various herbs to a light boil. Let it cool down. Light some candles, incense, and witchy music while i shower. Whole time I'm showering I recite an intention for whatever purpose im needing at the time. Have my usual shower and when im done, i pour the ritual bath over me and let it dry on me. Its especially great to do right before bedtime for me. I let the infused magick fill my dreams.
I may do a moon- bath like this tomorrow.
Thank you for sharing.
Blessed be.
Thanks @MeganB! That has great information for bathtub-less ideas!
Oh thank you for your kind words

That's a great idea @walter – I'll have to give that a try someday!
@MeganB , i did it last night. Strained the bath , warmed it a bit and poured it over me…I actually slept so amazingly.