NOTE This is a discussion only. I know there are those here who follow the Wiccan Rede, there are those who believe in the threefold law, and there are those that do not place any ethical laws on their magic besides their own. Please do not police the practices of others in this post, i.e. tell someone they cannot do something because it's against the Wiccan Rede or threefold law. If you would like guidance on having a good discussion, I recommend reading this → Guide to Discussion Skills | UNSW Current Students and maybe I'll create a post on it myself sometime in the future.
---
Last week, I made a video for my channel about ethical magic and my thoughts. I wanted to share it with you here, as well as a blurb or synopsis of the video itself, to start a discussion on the ethics of casting spells on or for other people, usually without their permission. Here is the video, and it's subtitled as well for anyone that needs them. I'll post the main points down below.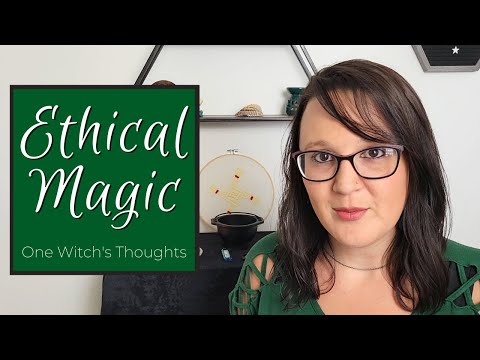 Ethics will vary from person to person and is defined, in part, as a set of moral principles.

I used to believe that it was okay for me to cast spells on/for others without their permission, specifically saying, "If Christians can pray for me without my permission, why can't I work magic for them without their permission?" but now I see that view as childish.

Things I keep in mind when casting spells for others → consent, the situation as a whole, and my guiding principle of if I won't do it without magic, I won't do it with magic.

Sometimes, even with a person's permission or at their request, a spell can still be unethical for me. For example, if someone wanted a fertility spell to get pregnant and trap their partner in a relationship, that's unethical. However, if someone wanted a fertility spell because they have been trying to conceive and have been unsuccessful, and have a consenting partner, then that is ethical. See how the situation can change my ethical approach?

Different schools of thought approach magic differently. There are those who believe magic won't have an affect on someone if the target's energy doesn't align with the spell. There are those who believe magic won't work on others, period.
Obviously there's more to the video, but I would like to get your thoughts on this and have a nice discussion on what your personal ethics are when it comes to casting spells!