Have you ever tried to do a Tarot reading with (regular) playing cards? This is my entry for this week's 🔮 Weekly Witchy CHALLENGE- Fortelling the Future!
・* .:。
゚ ゚・
.。. * * .:。✧゚ ゚・ ✧.。. * . *.:。
*゚ ゚・ ✧.。.
.
If you have a deck of poker cards you can do a simple reading by combining the meanings of each suit and the number in the card. I've designed a printable cheatsheet for playing-card Tarot
Tarot with Regular Playing Cards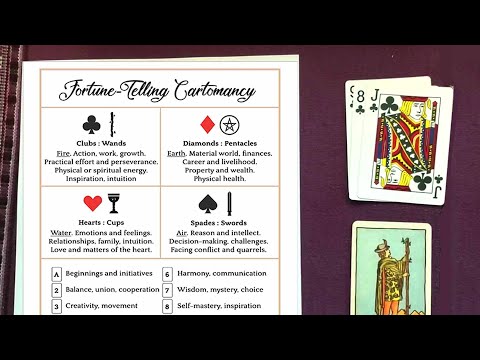 Playing-Card Tarot Cheatsheet
I used some information from the book Cartomancy by Julian Moore. You can also learn more about Tarot in the Whole Tarot Video Course, which will have new lessons later this week.
How to Read Tarot with Playing Cards?
The four suits in the Poker deck fit each of the four suits in a regular Tarot deck. Each suit will have a specific meaning, for interpreting general aspects of the spread. Any type of Tarot spread will work.
Clubs are like the wands in the Tarot deck. They represent fire. Fire is action, work, and growth as the leaves in the wand grow.
Diamonds are the element Earth. They represent money, finances, the material world, and also stability and health.
Hearts are Cups, the symbol of water. It has to do with emotions and feelings. Relationships and family.
Spades are Swords. The element Air, of Reason and the intellect. It can also mean conflict or challenges.
Note: Some people alternate the elements Air and Fire, depending on their tradition.
The suits act as general aspects or spheres of influence, and each number represents a stage or scenario in that field.
Ace: Beginning and initiatives.
2: Balance, union and cooperation.
3: Creativity and movement.
4: Stability, security, matters of the family.
5: Challenges, conflict or risk.
6: Harmony and communication.
7: Mystery, wisdom, or making a choice.
8: Self-mastery and inspiration.
9: Growth and manifestation.
10 Completion and renewal.
When reading regular cards, if we see a face card
it's telling us about a person.
Jack: A young person (male, female or other). A messenger.
Queen: Older woman such as a mother figure. Intuitive
King: Older man such as a father figure. Expressive.
Joker: The Fool. Adventurous, inexperienced, curious for learning and exploring.
I hope you find it useful, even if just for a quick beginner fake-Tarot session!