Merry meet!
Thank you once again to everyone who joined in for last week's Weekly Witchy Challenge - Witch Brews & Potions
With our potions made and brews mixed, it's time to sit down and put our hands up- as this week, we are peering into the secrets of our palms
The theme for this week's challenge is…
Palmistry - The Magick in Our Palms
This method of divination has so much to reveal-
And it's all right there in your hands!
We are grabbing hold of a theme never-before explored in a weekly challenge- palmistry! This is a very beginner-friendly method of divination that requires nothing but your own two hands.
What is "Palmistry"?
Reading the lines of the palm, which are creases and folds, can provide lots of information about a person, and are therefore used as a divination technique. So, by definition, palmistry is the practice of reading and analyzing the characteristics and features of the lines on the palm to interpret personal traits and obtain guidance.

From Spells8: Palm Reading Guide
Whether you are a palm reading expert or have never given a second thought to the mysteries of the hands, you are warmly invited to join the coven in our exploration of the theme this week!
~ * ~ * ~ * ~ * ~ * ~ * ~ * ~ * ~
This week's theme challenges you to explore palmistry - but as always, how you do so is up to you!
So are you ready? Because it's…
CHALLENGE TIME!
Picture from Wikimedia Commons
STEP 1 : Palm Magick
This challenge is all about palmistry- there is a whole handful of ways you might grab onto this challenge!
Still not sure where to begin?
To help you get started, the following list has a few suggestions in which a witch might approach this challenge!
~ ~ ~ ~ ~ ~ ~ ~ ~ ~ ~ ~ ~ ~ ~ ~ ~ ~ ~ ~ ~ ~ ~ ~ ~ ~ ~
Grab Hold of Palmistry Basics
If you're not sure where to start, begin at the beginning! Learning the basics of palmistry will help you get a solid foundation about this handy area of the Craft. Feel free to share what you learned as your entry to the challenge!
Palm Reading Guide: How to Read Your Hand

In addition to the above guide, @Silverbear has a great video that explores the basics:
Palmistry - Do You Read Palms?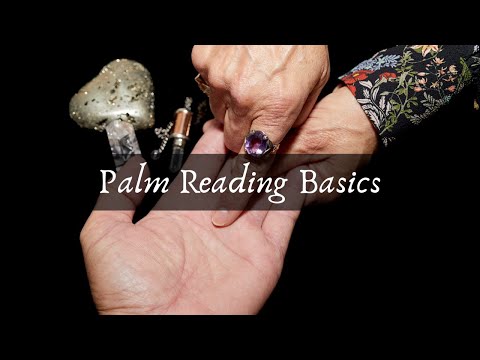 ~ ~ ~ ~ ~ ~ ~ ~ ~ ~ ~ ~ ~ ~ ~ ~ ~ ~ ~ ~ ~ ~ ~ ~ ~ ~ ~
Try Your Hand at Hand Readings
Once you've got the basics down, why not give palm reading a try? Feel free to explore reading your own hand or try your skills at reading someone else's palm.
For additional advice and tips, feel free to check out these palm reading discussions in the forum:
~ ~ ~ ~ ~ ~ ~ ~ ~ ~ ~ ~ ~ ~ ~ ~ ~ ~ ~ ~ ~ ~ ~ ~ ~ ~ ~
…And More!
Does the theme of palmistry call you to Art Magick? Does it inspire you to combine palm readings with the divine, or get hands-on in Herbal or Kitchen Witchcraft?
As always, you are free to draw on your creativity and pursue this week's theme in ways that suit your unique magickal practice
Picture from Pixabay
---
---
STEP 2 : Share Your Experience
Please click here for notes about challenge inclusivity

Everyone is welcome to join the challenge by practicing magick in line with the current theme. For lurkers and those who don't feel comfortable sharing, it is absolutely okay to follow along with the challenge but keep your entry personal. Feel free to join in spirit and do what feels most comfortable for you!

That being said, please know that if you would like to receive a prize and a public shout-out, it is required that you share your experience.
For your entry to be counted towards the challenge, please share:

How you explored palm reading this week
In order for your entry to be counted, all you have to do is write/share about your experience and label it as your challenge entry. There is a lot of chatting here (which is awesome- chatting and discussion are very welcome!) so please clearly write that it is your entry so I know to count it!
Where Should I Share My Entry?
You are welcome to post it right here- just click "reply"
to this post and write your experience in the text box that pops up!
Alternatively, you could create a new thread in the forum (doing so keeps your entry separate and is a good option if you have a lot to share)
Note : If you choose to create a new thread, please add the "challenge-entry" tag and/or add a hyperlink back to this post so that it can be easily found- thank you!
---
Deadline
This challenge will close in 6 DAYS
To join in, please share your experience by:
Tuesday, October 18th at 7:00 AM CET (Central European Time)
( 2022-10-18T05:00:00Z)
(Note that the time zone is CET- you can use this time zone calculator to switch into your time zone!)
---
Prizes
For their efforts, all participants will receive a special shout-out and a small prize!
Acknowledgments will be given in a Props and Presents Post that will appear in the forums on Tuesday.
After the challenge closes, you are still very welcome to post but please be aware that no additional prizes will be given. This discussion will remain open for about a week after the challenge finishes.
Picture by the Crafting Witch on Pinterest
A warm reminder that all challenges are designed to be very open- everyone is encouraged to participate in a way that honors and reflects their unique practice
If you have any doubts about if something is acceptable to post or say, please double-check with the Forum FAQ and/or reach out to your friendly Moderator Team .
And for those new to challenges- welcome!
Know that the goal of these activities is to help you further diversify and strengthen your abilities and to bring together the Spells8 forum family to inspire and support one another in creative ways
Art by Blackwateroutpost on Etsy
~ * ~ * ~ * ~ * ~ * ~
Hold out your hand and you shall see
What has been and what shall be
For if you ask, they shall confide-
Trust your hands to be your guide!
~ * ~ * ~ * ~ * ~ * ~
Blessed be and happy palm readings!