A warm welcome to all!
Thank you once again to everyone who joined in for last week's Weekly Witchy Challenge - Smells Like Magick
After enjoying some delightfully smelly spellwork, it's time to open up more than just our senses- this week involves opening our heart and minds to the people and world around us
The theme for this week's challenge was inspired both by one of @Silverbear's latest videos and the upcoming World Environment Day. It is…
As Above, So Below - Interconnection
Quod est superius est sicut quod inferius, et quod inferius est sicut quod est superius.
-Latin from The Emerald Tablet
"As above, so below, as within, so without, as the universe, so the soul…"
-Hermes Trismegistus
When reading magickal texts or studying spellwork, the phrase: "As Above, So Below" is sure to appear at one point or another. The phrase is believed to orginate in The Emerald Tablet- a Hermetic text of great importance to early Islamic and European alchemists. Variations in the wording exist due to translations through languages and various applications in different religions, philosophies, and theologies
Some interpretations of the phrase include: that which you do here has consequences in other realms/lifetimes, what happens on earth is mirrored in the realm of the divine, the actions of the individual affect the larger world, what we thinks manifests on the outside, etc.
While there are many ways to apply and interpret the phrase, the general meaning of As Above, So Below refers to interconnectivity- that things are connected on a higher level.
~ ~ ~ ~ ~ ~ ~ ~ ~ ~ ~ ~ ~ ~ ~ ~ ~ ~ ~ ~ ~ ~
This week's theme challenges you to explore magickal connections - but as always, how you do so is up to you!
So are you ready? Because it's…
CHALLENGE TIME!
Painting by Skount: Nature Interconnection
---
STEP 1 : Magickal Connections
A few questions to get started:
All of these are connections that can play small or immense roles within your magickal practice. Your connections represent not only what type of witch you are, but also reveal who you are deep down as a person.
Still not sure where to begin?
To help you get started, the following list has a few ways in which a witch might approach this challenge!
~ ~ ~ ~ ~ ~ ~ ~ ~ ~ ~ ~ ~ ~ ~ ~ ~ ~ ~ ~ ~ ~ ~ ~ ~ ~ ~
Explore Interconnectivity
What does it mean to be connected- to be a part of the whole? How does this affect our magick? The meaning and value of finding magickal connections can be discovered through careful thought and contemplative meditation
Don't hesitate to open up your Book of Mirrors as well- this is a great topic to explore through journaling!
@Silverbear's Reflection of Interconnectedness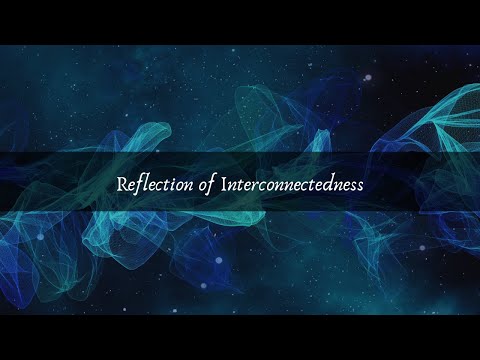 ~ ~ ~ ~ ~ ~ ~ ~ ~ ~ ~ ~ ~ ~ ~ ~ ~ ~ ~ ~ ~ ~ ~ ~ ~ ~ ~
Divine Connection
Have you built a bond with a higher power- such as your patron deity, a God, Goddess, or other divine being?
Take some time this week to appreciate the relationship you have forged and the benefits and abilities that connection has brought you. After reflecting, take some time to show your gratitude with an offering or ritual of appreciation
If you haven't yet found a deity but feel drawn to working with one, this is your sign to dig deeper and make the effort to connect
How to Find Your Patron Deity

~ ~ ~ ~ ~ ~ ~ ~ ~ ~ ~ ~ ~ ~ ~ ~ ~ ~ ~ ~ ~ ~ ~ ~ ~ ~ ~
One with the Earth
While the planet is special to everyone who calls it home, it is especially sacred to Green Witches, those who work Elemental Magick, and everyone who practices magick in harmony with the Earth.
With World Environment Day coming up this weekend, now is the time to remember to treasure and be mindful of our very important relationship with Mother Nature
Prayer for Healing Mother Earth

Elemental Earth Magick: Earth Invocation

~ ~ ~ ~ ~ ~ ~ ~ ~ ~ ~ ~ ~ ~ ~ ~ ~ ~ ~ ~ ~ ~ ~ ~ ~ ~ ~
Empaths and Healers
There are some with a heightened ability to sense the emotions- especially pain and suffering- of those around them. Some can go so far as to absorb or banish negativity energies to leave space for healing and positivity.
Are You an Empath?

Healing Illness Spell

All-Purpose Natural Healing Salve

Empaths and healers have a naturally strong ability to connect with others- but with this gift must come precuation, as giving too much and receiving too little can cause the savior to suffer too.
Helping others is very noble work, but please remember to properly shield your own energies, use protection spells, and take time for self-care!
Empath Shielding Spray

Taking proper measures can help prevent both Spellwork Burnout as well as physical and emotional burnout
~ ~ ~ ~ ~ ~ ~ ~ ~ ~ ~ ~ ~ ~ ~ ~ ~ ~ ~ ~ ~ ~ ~ ~ ~ ~ ~
…And More!
Being "connected" in the Craft may mean different things to different witches- and that's okay!
For this challenge, feel free to explore interconnectivity in a way that best suits you and your unique magickal practice
Picture from QuoteFancy
---
---
STEP 2 : Share Your Experience
Click here for notes about challenge inclusivity

Everyone is welcome to join the challenge by practicing magick in line with the current theme. For those who don't feel comfortable sharing, it is absolutely okay to follow along with the challenge but keep your entry personal. Feel free to join in spirit and do what feels most comfortable for you!

That being said, please know that if you would like to receive a prize and a public shout-out, it is required that you share your experience .
To participate in the challenge, please share:

How you explored connections in your magickal practice this week
For your entry to be counted, please write about your experience in the comments below and/or create a new thread in the forums.
Note : If you choose to create a new thread, please tag the challenge by adding a hyperlink back to this post so that I can easily find it- thank you!
---
This challenge will close in 6 DAYS
To join in, please share your experience by:
Tuesday, June 7th at 7:00 AM CET (Central European Time)
( 2022-06-07T05:00:00Z )
(Note that the time zone is CET- you can use this time zone calculator to switch into your time zone!)
For their efforts, all participants will receive a special shout-out and a small prize!
Acknowledgments will be given in a Props and Presents Post that will appear in the forums on Tuesday.
After the challenge closes, you are still very welcome to post but please be aware that no additional prizes will be given. This discussion will remain open for about a week after the challenge finishes.
---
Picture from Creative by Nature: Alan Watts- Everything is Interconnected and Inseperable
A warm reminder that all challenges are designed to be very open- everyone is encouraged to participate in a way that honors and reflects their unique practice
If you have any doubts about if something is acceptable to post or say, please double-check with the Forum FAQ and/or reach out to your friendly Moderator Team .
And for those new to challenges- welcome!
Know that the goal of these activities is to help you further diversify and strengthen your abilities and to bring together the Spells8 forum family to inspire and support one another in creative ways
Picture from Pixabay
~ * ~ * ~ * ~ * ~ * ~
As is above, so too is below
So grow your love and let energy flow
For all that within is also without
You're one with your magick, of that there's no doubt!
~ * ~ * ~ * ~ * ~ * ~
Blessed be!